Another year, another Valentine's date to plan. Regardless of whether you have big plans for the evening or not, the best way to start your Valentine's day is with breakfast in bed. We've selected 5 great recipes to surprise your partner with for breakfast in bed this Valentine's Day, listed from the easiest to most difficult. Whatever you decide, just make sure you spend the day letting your date know how much you care.
For more advice, we also have articles on How to Get Over Someone and Long Distance Dating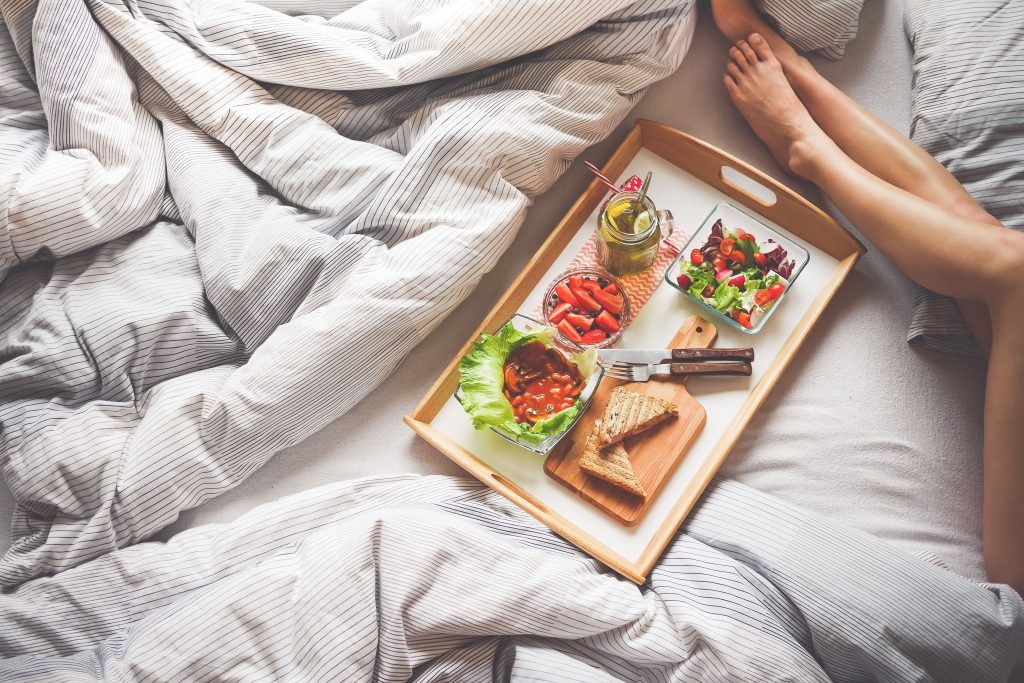 1 – Chocolate PB Breakfast Shake (Very Easy)
This is a no-fail smoothie recipe for those of us not super capable in the kitchen. Yummy, smooth and sure to delight!
Makes 2 servings
Ingredients:
2 large bananas
¼ cup peanut butter
¾ cup ice
2 tbsp cocoa powder
½ tsp vanilla extract
1 cup almond milk (more for a thinner drink)
Instructions:
---
2 – Berry Granola Bowl (Easy)
This recipe is easy and very customize-able – switch in your partner's favorite fruits and toppings and serve with fresh fruit juice or coffee for an easy and impressive Valentine's Breakfast.
Makes 2 servings
Ingredients:
1 cup plain greek yogurt
½ cup raspberries
¼ cup blackberries
½ cup blueberries
¼ cup strawberries (cut lengthwise)
1 tbsp sliced almonds
1 tbsp shaved coconut
Instructions:
Place ½ cup of yogurt in each bowl
Wash all the fruit and core and slice strawberries
Arrange the fruit evenly on top of each bowl
Sprinkle with sliced almonds and coconut
---
3 – Overnight Bagel French Toast (Medium Difficulty)
Baked french toast takes a little more time and prep but after you pop it in the oven, you can hop back into bed with your sweetie for some cuddles while the smell of baked french toast fills the house.
Makes 4-6 servings
Ingredients:
10 plain bagels (or sub any sturdy bread)
½ cup blueberries
4 eggs + 1 yolk
1 ¼ cup milk
¼ cup heavy cream
¼ cup brown sugar
1 tbsp vanilla extract
2 tsp cinnamon
1 tsp nutmeg
½ tsp salt
Instructions:
Grease a small baking dish
In a large bowl mix all ingredients except the bread
Chop bread into small cubes (approx 3/4 inch) and spread inside baking dish
Pour wet mixture over bread, ensuring all paces are thoroughly soaked
Cover and let sit overnight in fridge
Preheat oven to 350
Bake in oven for 45 minutes, until top is crisp and center is dry and spongy
Serve warm
---
4 – Breakfast Cinnamon Rolls (Difficult)
Cinnamon rolls are a great choice if you are comfortable in the kitchen, but they take a little extra time and effort. We suggest waking up before your partner and then going back for a cuddle while they rise.
Makes 12 rolls
Ingredients:
Rolls:
2 ¾ cup flour
¼ cup sugar
½ tsp salt
2 ¼ tbsp instant yeast
½ cup whole milk
¼ cup water
a large egg
3 tbsp butter (unsalted)
Filling:
3 tbsp soft butter
1 ½ tbsp of cinnamon
¼ cup brown sugar
Icing:
1 cup icing sugar
½ tsp vanilla extract
2-3 tbsp milk
Instructions:
For the dough:
Whisk flour, sugar salt and yeast – set aside
Combine milk, water and butter in a heatproof bowl and microwave until melted
Add to the dry ingredients and stir until a soft dough forms
Knead on a lightly floured surface for 3 minutes
Let rest for 10 minutes covered in a lightly greased bowl
Fill the rolls:
After resting, roll into a rectangle (approx 14x8inch)
Spread soft butter on top and sprinkle with cinnamon and brown sugar
Roll the dough tightly into a log and then cut into 10-12 even rolls
Arrange in a lightly greased 9-inch round cake pan
Tightly cover and allow to rise for 60-90min
Bake and Ice:
After the rolls have doubled in size, preheat to 375 and bake for 25-28min
Whisk confectioners' sugar, vanilla and milk together and drizzle over rolls